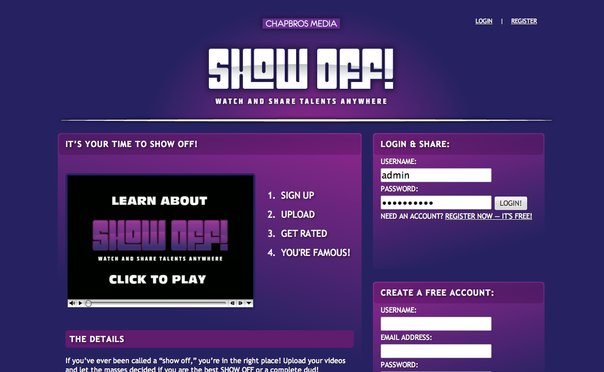 ChapBros Media is please to announce, SHOW OFF, the World-Wide talent competition EXCLUSIVELY on the Apple iPhone and iPod Touch.
ChapBros Media is the brain child of Duane Lee Chapman and Wesley D. Chapman the sons of the world famous "DOG The Bounty Hunter" seen on A&E Television.
ChapBros Media has just received the thumbs up from Apple Inc. for their newest app, SHOW OFF and the app is now available in the APPLE iTunes Store: http://itunes.apple.com/WebObjects/MZStore.woa/wa/viewSoftware?id=330046909&mt=8
SHOW OFF gives users the ability to not only submit videos of their talents, but also to vote via the iPhone or iPod Touch for their favorite video submission. Weekly prizes will be given for the overall winner and every 14 weeks one Ultimate SHOW OFF will be crowned!
As SHOW OFF develops so will the prizes! Due to Apple restrictions ChapBros Media is unable to give away cash prizes, but the Chapman brothers have a few ideas up their sleeves! Prizes now will consist of t-shirts, bags, hats, guitar straps, drum sticks, flip video cameras, mugs and so on.
ChapBros Media has taken their business plan to the social community in a very effective and aggressive way. By utilizing MySpace, FaceBook and Twitter the Chapman brothers have not only created the social fan buzz, but have turned their company fans into active marketing agents. The Chapmans' have assigned team leaders to lead teams. These teams have been given critical duties to help grow the SHOW OFF project and the ChapBros Media brand. Teams are assigned 'missions' and each team is rewarded for the completion of these 'missions'. For an example, this week teams were given the mission of sending out press releases to local media outlets.
Not only does this bring the fans closer to the project and the Chapman brothers, it also fuels viral and social marketing. In just days the Chapman's Twitters, MySpace and FaceBook have gathered thousands of fans and is growing every day.
ChapBros Media will be releasing other iPhone apps in the coming weeks and will continue to release apps through out 2009 and 2010.
For more information on ChapBros and SHOW OFF, please visit www.chapbros.com or check out the ChapBros Media FaceBook page at http://www.facebook.com/pages/ChapBros/125664418441